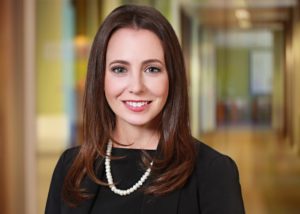 Kathryn F. Russo has been included in the 2016 Southern California Super Lawyers® Rising Stars list. According to the Super Lawyers® website, "Rising Stars" are attorneys under 40 or practicing for 10 years or less who have demonstrated skills that set them apart in their field.
"As our clients have learned, Kathryn is a bona fide star, an attorney who can be counted on for complex analysis and a comprehensive understanding of health data privacy and security, behavioral health, and digital health regulatory issues," said firm managing partner Harry Nelson.
This award is partly peer-nominated, with lawyers recognizing and voting for colleagues they have personally observed in action. An attorney-led research team then assigns points to each candidate based upon licensing, good standing with the state licensing agency, and no history of disciplinary action. The research staff also takes into consideration firm size, practice area and geographic location.
According to its website, Super Lawyers® bases its awards on "a high degree of peer recognition and professional achievement." After evaluating many attorneys' opinions and the research results, only lawyers with the highest point totals are placed on the Rising Stars list. The Super Lawyers® website states that no more than 2.5% of attorneys within a state are named to the Rising Stars list. In the specialty of healthcare, only seventeen Southern California lawyers (including Ben and John) received this honor.
We congratulate Ms. Russo on this distinguished honor and wish her continued success with the firm.
---
Posted on May 28, 2016